Foot Orthotics
Prescription Orthotics are medical appliances that are custom made to correct your specific foot imbalance. By gentle consistent pressure orthotics work to bring foot, muscles and bones toward proper alignment. Orthotics are made of flexible molded thermoplastics and fit comfortably into shoes.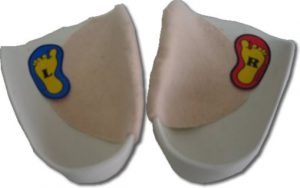 Ankle Foot Orthosis (AFO)
Ankle foot orthosis is externally applied to the lower limb and designed to protect, prevent, support or correct deviation of the foot and ankle.
The AFO (custom made or prefabricate) is our most commonly made device. Various hinges are also available for AFO's, which allow articulation of the ankle joint.
AFO's are prescribed for several conditions, some of which include stroke, cerebral palsy, spina bifida, multiple sclerosis, paraplegia, polio or ankle and foot deviation.
Types of ankle foot orthosis available at Toronto Orthopedic:
Rigid ankle foot orthosis (molded AFO)
Hinged ankle foot orthosis
Posterior leaf spring ankle foot orthosis
PTB- ankle foot orthosis ( PTB- patellar tibia bearing)
Floor reaction ankle foot orthosis
Conventional ankle foot orthosis
Knee Orthosis
There are many different types of knee orthoses available. Therefore, to decide which knee orthosis is effective the orthotist has to understand the normal biomechanics, pathology and kinematics of the knee. They also must take into consideration range of motion, muscle strength, laxity of ligament, skin condition and sensation.
Supportive knee orthosis (supports the injured knee or weakness of ligament)
Post-operative (after surgery)
Functional knee orthosis (stabilizes, corrects, prevents & supports the deformity of the knee joint)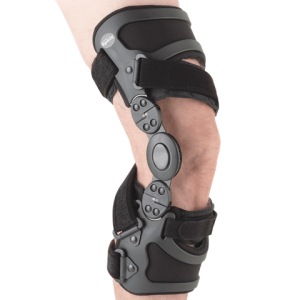 Knee Ankle Foot Orthosis
The KAFO is commonly used to treat symptoms due to spina bifida, cerebral palsy, paraplegia, polio, trauma or neuromuscular dystrophy. Different types of knee joint systems will be used for KAFO's depending on the patient´s needs. It could be a free knee joint for stability or a drop lock for knee control. However, in some cases a dial lock system is used for clients with knee flexion contracture.
Hip-Knee-Ankle-Foot-Orthosis
HKAFO is consists of a trunk section connected to KAFO's by two lateral hip joints. The joints system is usually associated with locks but in some cases it is a free hip joint. While wearing them, the client will be able to walk with the help of a walker or forearm crutches.