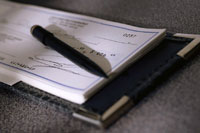 Toronto Orthopedic is enrolled as a registered vendor in the Assistive Devices Program (ADP) of the Ministry of Health for orthotic devices (braces). If you have a long-term physical disability related to your diagnosis and require the use of an orthosis on an ongoing daily basis  to improve function in a variety of activities of daily living, you are eligible for funding with ADP paying up to 75% of the cost for products and services available in this program. Also, you must be an Ontario resident with an Ontario Health card. We will provide assistance in applying for funding by completing an equipment authorization supply form with you. Please note that not all devices nor are all clients eligible for the ADP program.
ADP only covers up to 75% of the total cost, therefore the remaining portion is your responsibility. However, if you are receiving social assistance benefits in the form of the following: Assistance to Children with Severe Disability, Ontario Disability Support Program or Ontario Works Program, ADP may cover 100% of the total cost up to a maximum.
It is important to remember that there are many funding resources available. These include:
Insurance companies- group plans at your place of employment.
Social Assistance Benefits- Assistance to Children with Severe Disabilities, Ontario Disability Support Program, Ontario Works Program
Various community organizations – Rotary Clubs, Lion's Clubs
Our office will assist you when filing your insurance claims or applying to these resources.